What is Training in SafetyCulture?
What is Training in SafetyCulture?
Learn about the Training feature in SafetyCulture and what you can achieve in powering your team's knowledge.
What is Training in SafetyCulture?
Training in SafetyCulture is built to fit around how working teams operate, delivered in bite-sized chunks that can be accessed on any device, from anywhere. Training is not just designed to increase your team's confidence and compliance effectively, it also gives you complete visibility over their completion rates and results.
Knowing your team needs training is one thing. Having the time to create the content is another. Our free course library has over 1,000 courses ready for you to customize as you need, helping you get the training your team needs into their hands faster.
Please note that the Training feature is currently in Early Access. If you would like to sign up for Early Access, please register your interest, and our team will contact you.
Training in SafetyCulture
Course creation
When creating courses, you can either start from scratch, convert existing PowerPoint slides, or find inspiration in our free course library. If you would like some assistance in setting up your courses, we even have a team of experts to help.
Depending on your goals, training can take many forms. Not only can it be delivered in bite-sized pieces, but with Training, you can also mark virtual or in-person attendance, conduct practical assessments, or even perform knowledge assessments. The potential is endless.
Training delivery
With Training, your frontline teams can get the knowledge they need to stay safe, compliant, and well-informed. We understand that it can be difficult for learners to retain knowledge using traditional methods such as PowerPoint slides, so we made sure the experience is engaging through gamified bite-sized content. You can customize the look and feel to match your company branding, use gamification to keep your staff engaged, award certificates, and much more.
Performance tracking
As your teams complete their training in SafetyCulture, you can keep track of team performance, and easily identify knowledge and process gaps before they become issues.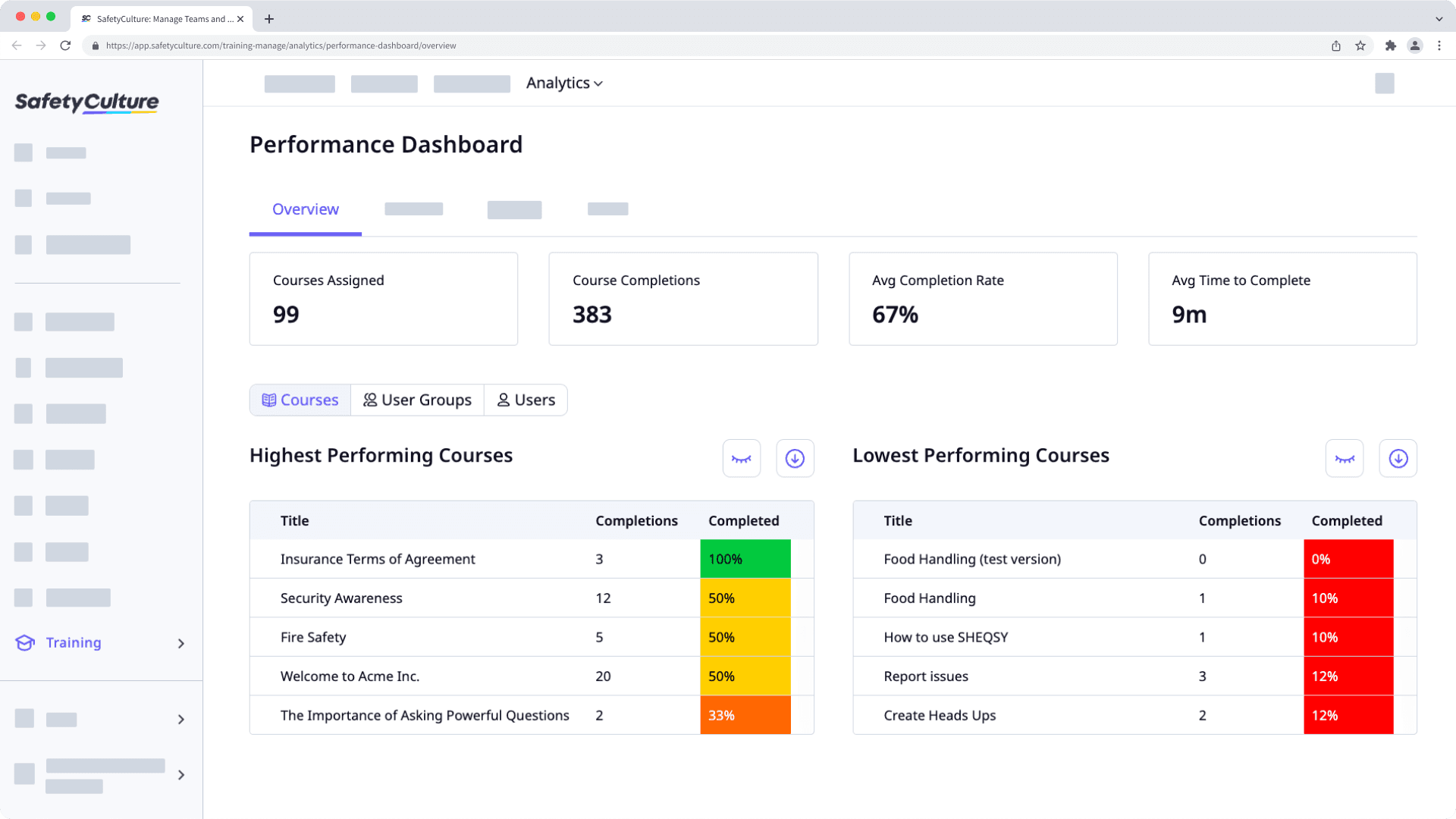 Thank you for letting us know.