Automatically export inspection reports to SharePoint
Automatically export inspection reports to SharePoint
Learn how to automatically export inspection reports to SharePoint.
What is SharePoint?
As one of the most used online collaboration platforms, Microsoft SharePoint has established itself as a great place to share and manage content to empower teamwork across an organization. Using SafetyCulture (formerly iAuditor), you can set up an integration to automatically export your inspection reports to your SharePoint site for your teams to access and share.
Take note
Inspection reports that get exported are based on the inspections, which the account that sets up the integration has access to. If you're an administrator, you can give yourself inspection access or assign yourself the "data access" permission to have visibility over all inspections in your organization.

Inspection reports are exported to SharePoint following a foldering structure of "SafetyCulture / [site name] / [template title] / [yyyy-mm]". The SafetyCulture folder name is static to help you identify where the data is coming from.
Automatically export inspection reports to SharePoint
Click your organization name on the lower-left corner of the page and select Integrations.

Click Set up for "SharePoint".

Click Install integration.

In the pop-up window, enter your SharePoint's "Subdomain" and "Site name".

Click Connect.

Follow the prompts in SharePoint to accept the permissions request or request approval from your SharePoint admins.

In the "Details" box, click the dropdown menu under "Export folder". You may need to close the "SharePoint integration authorization" pop-up window first.

Select where in SharePoint you want to export your inspection reports and click Save and apply.

Once both SharePoint and the export folder are connected, the integration will start automatically exporting completed inspections to SharePoint.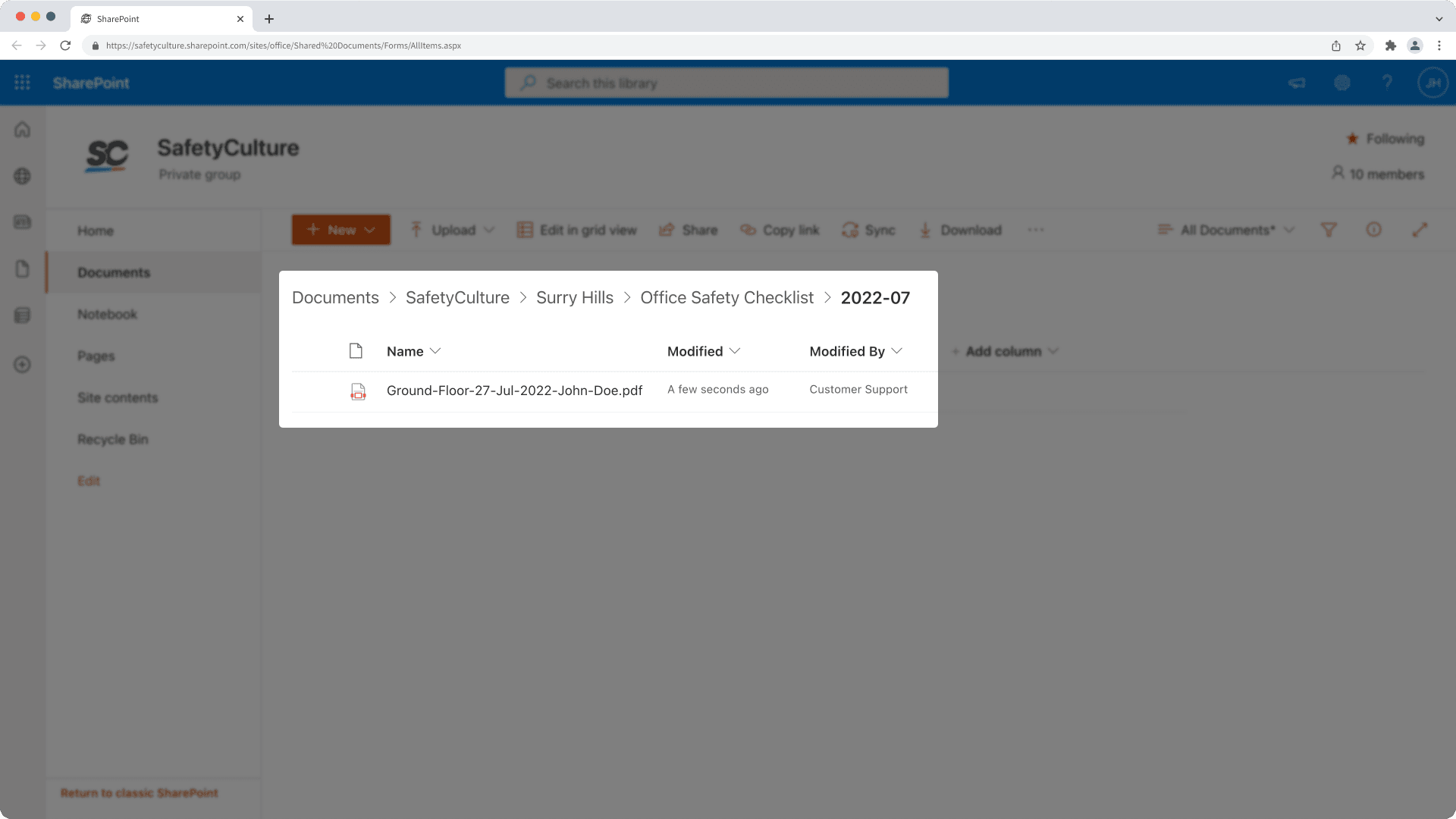 Frequently asked questions
Depending on your organization's SharePoint settings, you should be able to request approval during installation via a form. Your SharePoint admins should then receive an email of your request and approve the installation.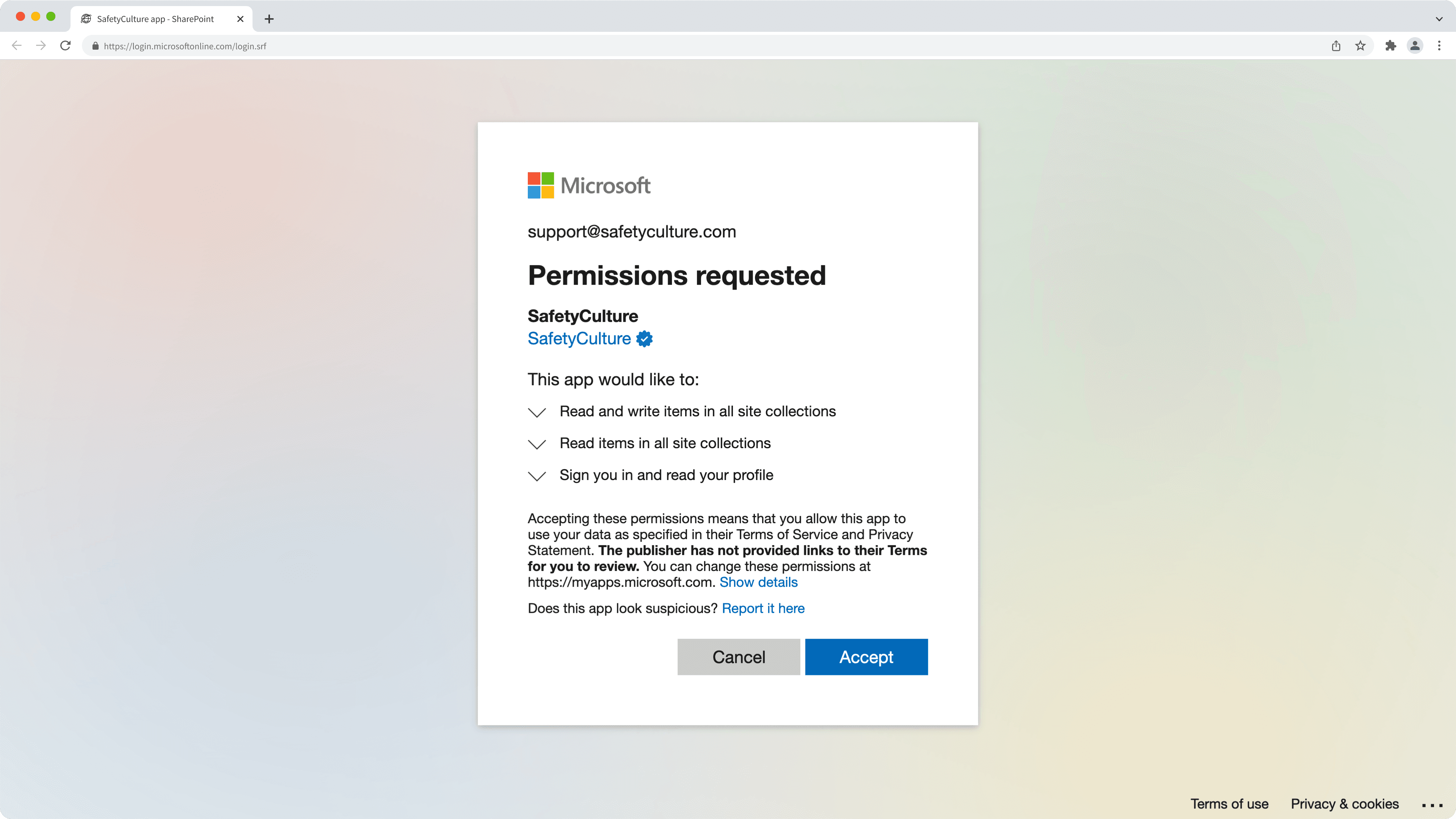 Once the installation is approved by your SharePoint admin, you'll need to return to the integration page in SafetyCulture and complete the setup.
If you don't see a form to request approval for the integration, you'll need to contact your IT team for assistance. They can then enable the consent workflow in Microsoft Azure for you to request approval during installation or install the integration for you in SafetyCulture.
No, it's not possible to change the folder structure using this direct integration. However, our SafetyCulture Integration Builder can give you the flexibility to customize integrations in whatever way that works for you.
If an inspection doesn't have a title, it'll be exported and named using its audit_id. We recommend that you set up an inspection title format for each template, so that inspections can be named following a convention.
You can change where to export your inspection reports by re-authenticating your SharePoint connection.
Go to the integration.

Click Edit on the right-hand side of "SharePoint".

In the pop-up window, click Disconnect to authenticate your SharePoint connection again.

Select where you want to export your inspection reports.
Yes, you can. Follow the instructions in this article and when you reach the step to enter your SharePoint details, click Show under "Advanced settings" and enter your app's "Client ID" and "Client secret". Then, continue following the instructions to set up the integration with your Microsoft Azure Active Directory app.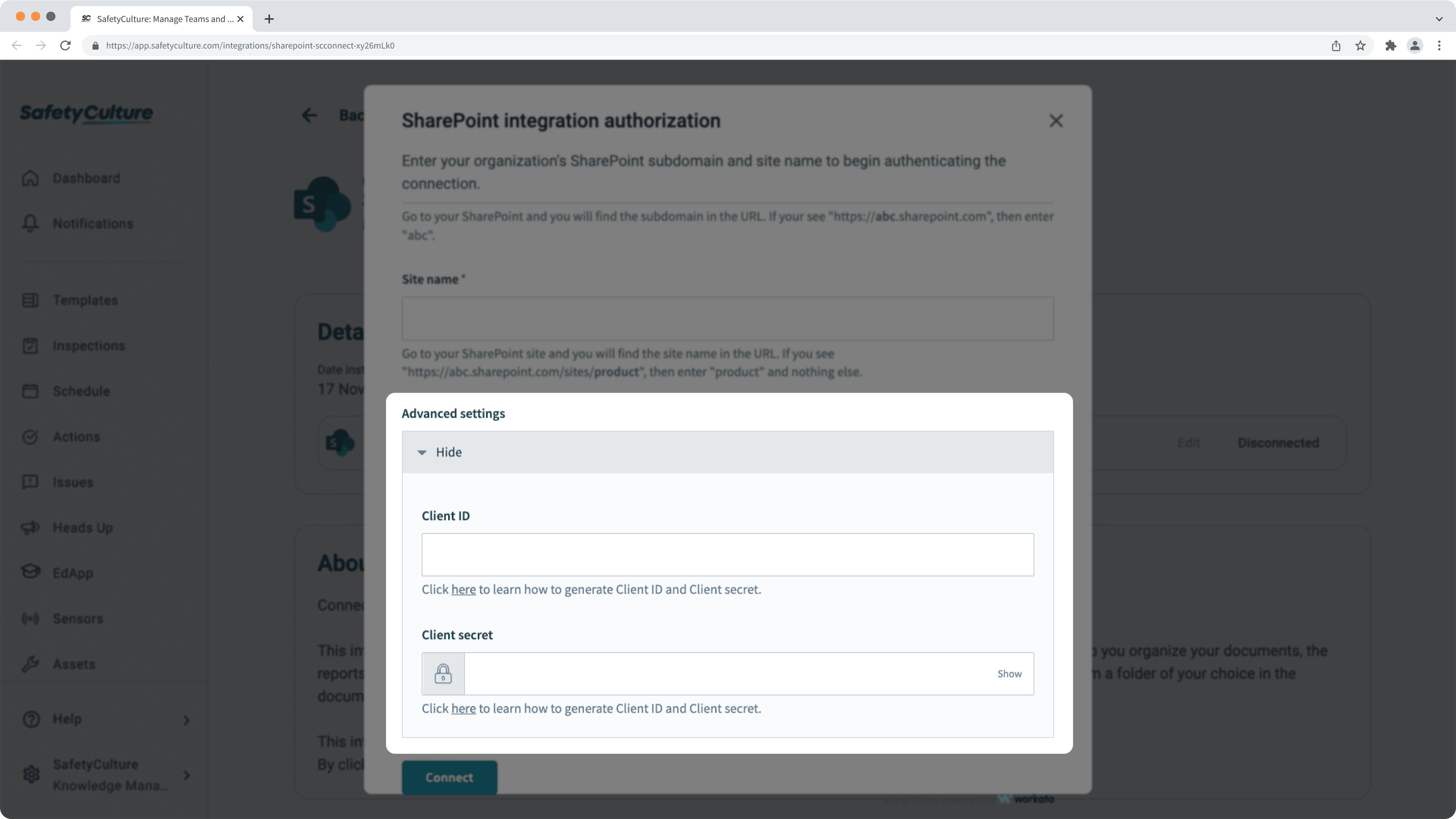 If you don't have your "Client ID" and "Client secret" yet, please follow the instructions to create the app in your Microsoft Azure for the details.
Yes. If an exported inspection report's file and folder path exceeds 400 characters, the inspection will not be automatically exported to SharePoint via the integration.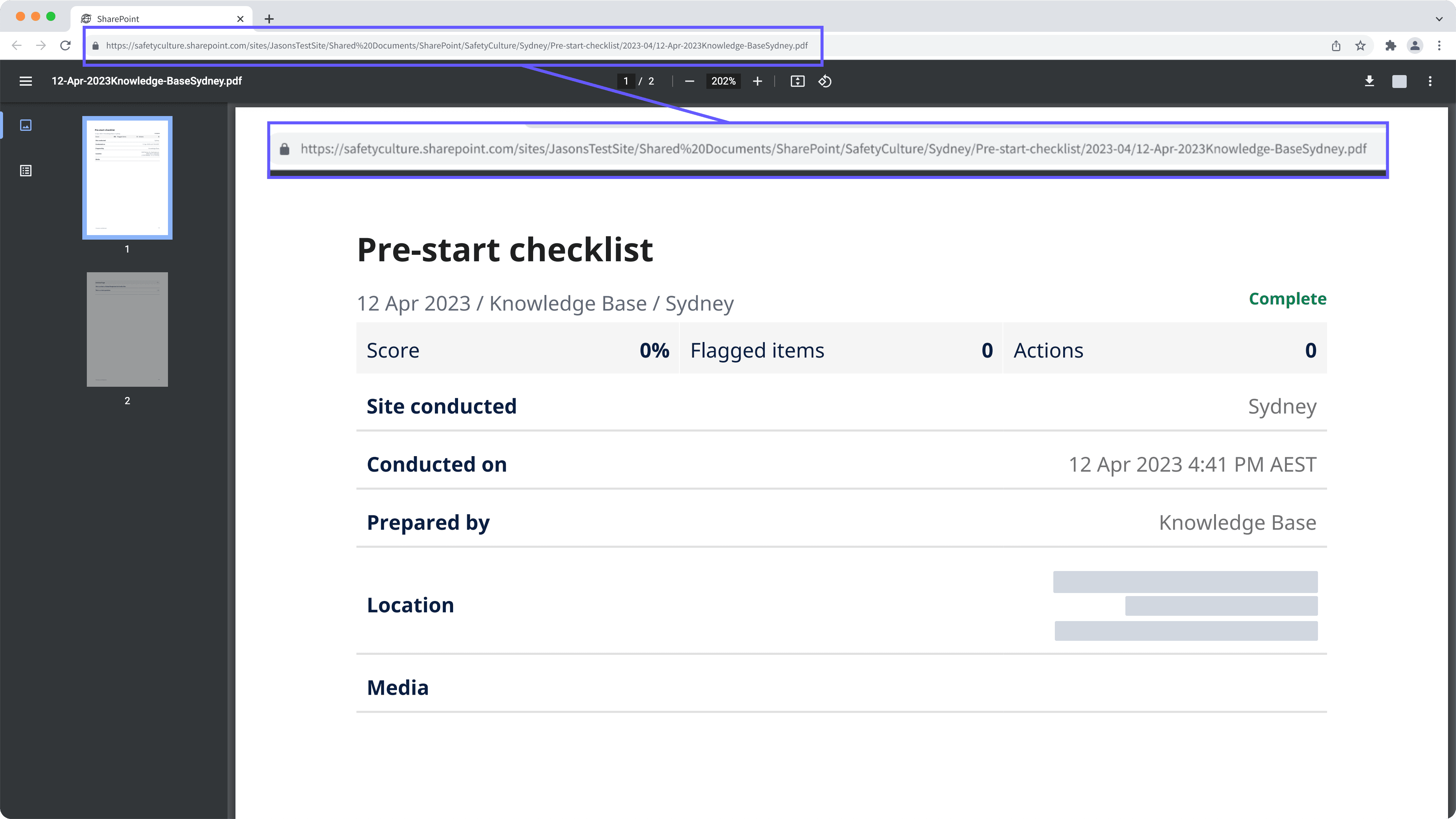 Thank you for letting us know.