Create recurring actions
Learn more about creating recurring actions via the web app.
¿Por qué crear acciones recurrentes?
La función de Acciones le permite identificar, realizar un seguimiento y completar tareas en equipo. Cada acción incluye un chat integrado y un feed de actividad, donde los miembros de su equipo pueden colaborar. Con marcas de tiempo integradas, puede realizar un seguimiento de la interacción de todos de principio a fin.
No solo eso, puede organizar sus acciones con antelación para que se repitan todos los días, semanas, meses o años: la elección es suya. Establezca un programa y no se preocupe. Confíe en su fuente de acciones diarias para decirle qué tareas deben realizarse todos los días.
Tomar nota
Solo puede crear acciones recurrentes a través de la aplicación web.

Solo puede establecer que sean recurrentes las acciones autónomas.

Los cesionarios externos no pueden ser asignados a acciones recurrentes.
Crear una acción recurrente
Select Acciones from the menu on the left-hand side.

Click Crear acción on the upper-right of the action list.

In the side panel, enter the action's title and description. You can also configure action fields such as a site, label, asset, and more.

Under "Repeats", click the dropdown menu and set the recurrence accordingly.

Click Crear on the lower-right corner of the page.

In the action activity screen, you can provide details, comments, and media files for the action.

Click Atrás on the upper-left corner of the page to return to the action list.
Preguntas frecuentes
If you update the details of an action, you will be prompted to save the changes to apply them. Updating the status and the due date only applies to that specific action. If you update the site, label, asset, and priority, you can apply them to that specific action or all future actions in the series. If you update the recurrence details, it will apply to the specific action and all future actions in the series.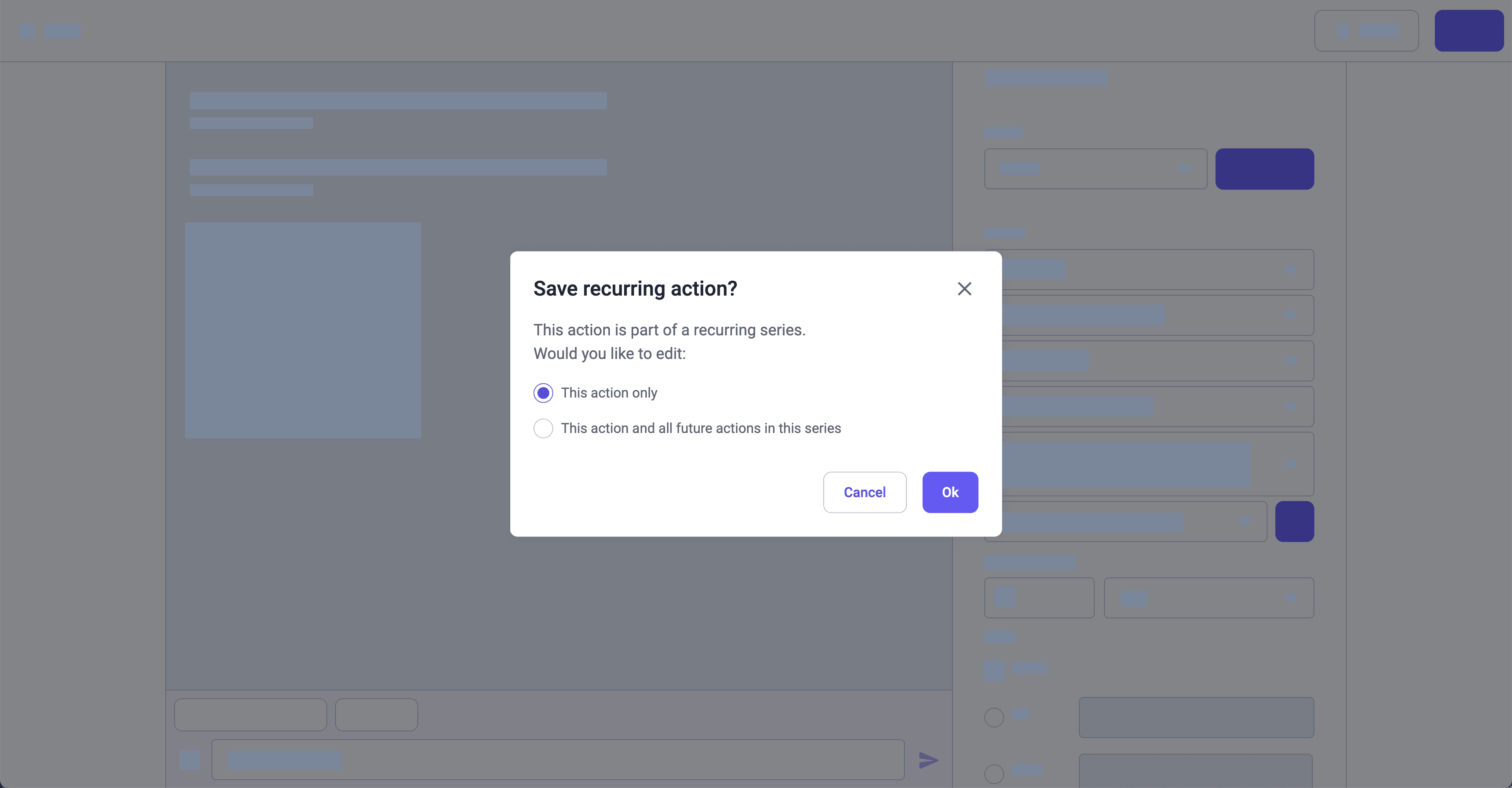 As soon as you create the initial recurring action, the next action will be created upon the due date and time of the occurrence. Let's use the below example to explain it further:
Recurring action creation date: Thursday, 16 February at 3:00 pm.

Recurring action due date: Monday, 20 February at 5:00 pm.

Recurrence: Recurring every 1 week.
Once the initial action has been created on 16 February at 3:00 pm, the first occurrence will be on 20 February at 5:00 pm, and the next occurrence will be on 27 February at 5:00 pm.
Gracias por hacérnoslo saber.