Tableau: Ihre SafetyCulture-Daten mit Tableau Desktop verbinden
Tableau: Ihre SafetyCulture-Daten mit Tableau Desktop verbinden
In diesem Artikel erfahren Sie, wie Sie Ihre SafetyCulture-Daten mit Tableau Desktop verbinden können.
Please note that the web data connector has been deprecated as of the 2023.1 Tableau release. Any existing data sources using the connector will no longer work as expected.
Please follow the instructions in this article to switch your data source from using the web data connector to using the SafetyCulture Exporter or feeds API.
What's Tableau?
Tableau is a powerful business intelligence (BI) software that helps organizations analyze and visualize their data. It provides interactive and user-friendly tools for data exploration, analysis, and sharing insights with others.
Using the SafetyCulture Exporter or feeds API, you can export your SafetyCulture data and connect it to Tableau to transform the raw data into interactive dashboards, reports, and visualizations for business intelligence and insights.
The data that gets fetched is based on the data to which the account that generated the API token has access to. If you're an administrator, learn how to assign yourself the "Data access" permission to have visibility over all your organization's templates, inspections, and actions.
Mit SafetyCulture verbinden
Wenn etwas schief geht oder Sie Fragen zur Integration haben, wenden Sie sich bitte an unser Kundensupportteam. Wir helfen Ihnen gerne.
Häufig gestellte Fragen (FAQ)
In der folgenden Tabelle finden Sie eine Anleitung zur Modellierung Ihrer SafetyCulture-Datensätze: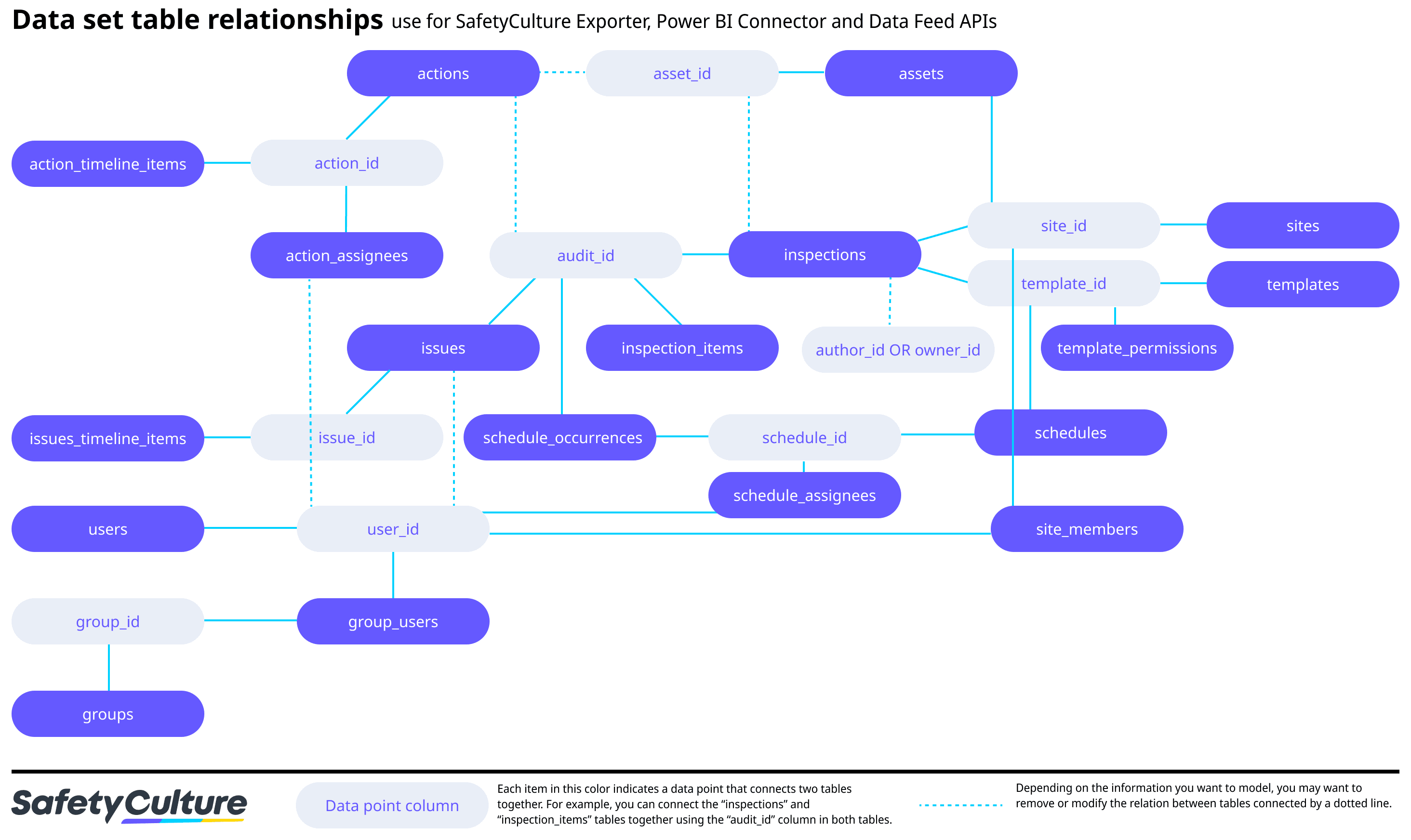 Brauchen Sie noch weitere Hilfe?
Vielen Dank für Ihre Anmerkungen.