SafetyCulture Care: Guide for brokers
SafetyCulture Care: Guide for brokers
Get started with SafetyCulture Care as a broker and get support for any problems you encounter.
What is SafetyCulture Care?
SafetyCulture Care is an intermediated insurance agency business available through brokers, offering risk management and Commercial Package insurance for small and medium-sized businesses.
Unlike the traditional approach to insurance, SafetyCulture Care starts with risk management and a position of wanting to help customers run a better, safer business.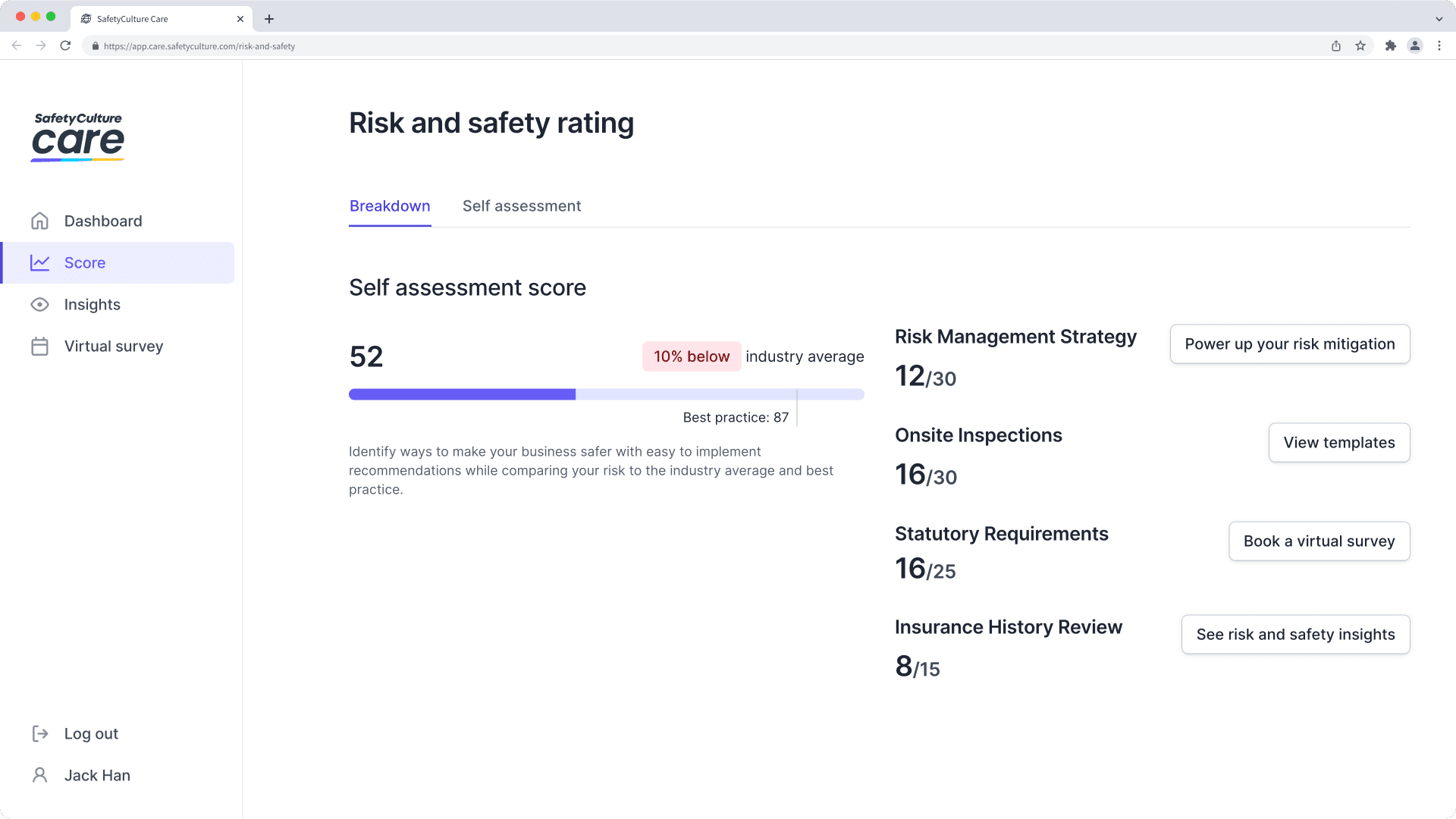 This includes using the workplace improvement tools and technology provided by SafetyCulture, leveraging data to create insights relevant to that specific industry or business, and risk surveys to better understand a customer's needs.
Please note that SafetyCulture Care is currently only available in Australia and the U.S.
Get started
1. Sign up for SafetyCulture Care
Sign up for your SafetyCulture Care account. If you already have a SafetyCulture account, you can use the same account for SafetyCulture Care.

On step 2, make sure to check the "I am a broker" box.

Once you've completed the sign-up steps, confirm your account via the link you should've received in your email inbox.

Our team will review your application and be in contact to help you get started.
2. Manage insurance with a client
Your application will need to be approved before you can manage insurance with SafetyCulture Care.
Once your application is approved, select Portfolio from the menu on the left-hand side.

Click Create quote on the upper-right of the page.

In the new tab, follow the steps to create an insurance quote.

Work with your client to accept the quote and bind it to a policy.
3. Invite a client
Once a policy is created for a client, invite them to SafetyCulture Care.

Select Portfolio from the menu on the left-hand side.

Find the client and click Invite client on the right-hand side.

In the pop-up window, enter the client's details and click Invite client.

This sends an email to your client for them to sign up for a SafetyCulture Care account.
Troubleshooting
It may be that your SafetyCulture Care application hasn't been approved yet. Please make sure your account's email address is confirmed, as it's a requirement for using SafetyCulture Care.
If your application has been approved, it could mean that you're logged in to multiple SafetyCulture accounts. Try logging out of all your SafetyCulture accounts and logging in again using the approved account.
Thank you for letting us know.